NSNart July news
Hello art fans,
Two announcements for July.
1) Fiona Stephenson has lowered the prices on her paintings to $1100 for the month of July. This discount will be applied manually when the invoice is sent out. Fiona has recently finished 10 commissions for PLAYBOY magazine. So, check out her paintings and get while the getting is good. ( http://www.nsnart.com/ArtistGalleryRoom.asp?ArtistId=1430 )
2) Jeremy Baum has opened up his commission list. Jeremy is an independently published artist and his grass-roots efforts have garnered him a small, yet growing, loyal fanbase. His style is instantly recognizable and his stories very memorable. Jeremy's turn around time for his commissions is generally under 6 weeks (usually much quicker). Jeremy's rates are VERY affordable and a bargain for the amount of work he applies to each piece.
Thanks for looking.
Enjoy,
Mike DeLeRee
www.NSNart.com
FREE COMIC BOOK DAY NSNart style
Get a FREE copy of BLACK UNIVERSE with any original art purchase made today!
This sketchbook is limited to just 500, so first come, first served.
NSNart second annual 25% OFF SALE!
Hello art fans,
It's time for the second annual NSNart 25% OFF SALE ! !
The sale will be going from February 1st through 28th.
New items are still being added, so keep checking back.
Thanks for lookin
BLACK FRIDAY 25% OFF Sale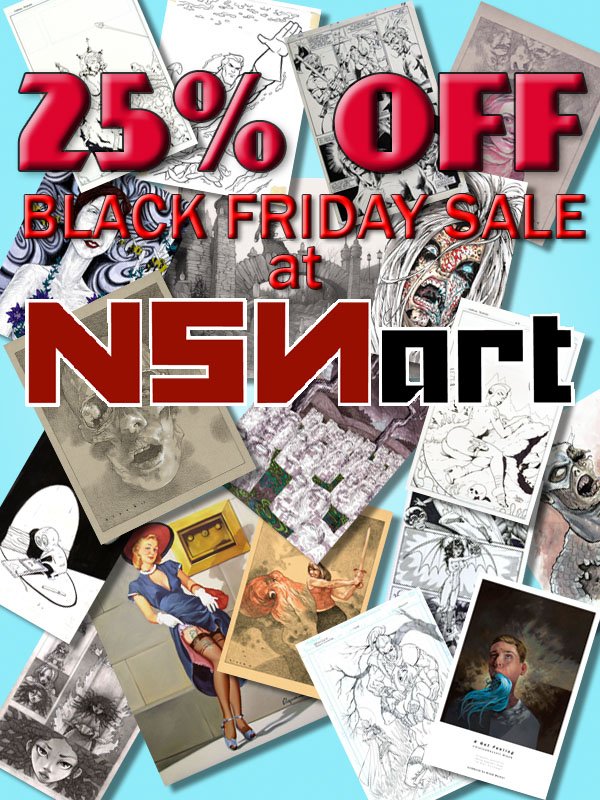 NSNart Update for 24SEP2012
Hello Art Fans,
NSNart is moving! Oh, weíll still be located on the internet at
www.NSNart.com
, but in October I will be transitioning out of the Marine Corps and heading to the cooler climates of Northern Arizona(ANYTHING is cooler than Yuma, AZ). So, for the next few weeks please excuse and delays in returning emails. There is plenty of planning, packing and paperwork that needs to be done over the next few weeks.
In the meantime, enjoy the latest art update featuring:
- The soon to be ending Dean Ormston CGC Sketch Opp commission opportunity.
- New daily drawings from Steven Russell Black
- a HAWKEN pin-up for the upcoming TPB by Karl Waller
- Several new GLORY pages from Ross Campbell
- The latest NSNart exclusive, a limited edition ARSENIC LULLABY collector coin (limited to only 100)
- A beautiful GAMBIT DPS from Skroce & Hunter
- And many many more.
Iím looking for suggestions of images/items people want to see in the store. Please let me know.
Thanks for looking.
Enjoy,
Mike DeLeRee
100 SOULS KICKSTARTER ends Sunday Night
Hello Art Fans!
This is the last weekend to make a pledge to the "100 SOULS project, an art book from Steven Russell Black." We have been fortunate enough to have reached our funding goal, so this book will be going to the printers!
Just because we have reached our funding goal does not mean the opportunity to back this project is closed out. In fact, now that we know we are going to print this is the best time to make a pledge on a project you know is going to be realized.
Before starting this project we did a lot of research to ensure that the rewards we offered were comparable for the pledge amount asked for. And even after we launched we continued to see what others are offering. We may be biased (in fact, we are!), but we think a signed/numbered limited edition hardback book for just $25 shipped (within the U.S.) is one of the best bargains on the entire KICKSTARTER site. Our only rival being a $45 signed/numbered/sketched limited edition hardback book. We would also like to emphasize these prices are lower KICKSTARTER incentive prices and will be increased (plus shipping) once the unclaimed books get listed on NSNart.
As of this writing, there are only two slots remaining to get a painted ASCENDED SOULS through the project. So, what are you waiting for!
I know not everyone reads the updates, so we would like to highlight three items from there that you may have missed;
1) We are giving away a PAINTED SKETCH CARD to the highest pledge of the day. So, with this project ending tomorrow, only two more painted sketch cards will be given away. And in case of a tie, the earliest pledge gets the painted sketch card.
2) If any backer leaves us a comment saying they heard about this project from a friend/colleague, we will give that person a free sketch card when we mail out their book.
3) Mr. Bob Bretall, has already taken us up on the offer and has earned himself a free card. Bob has in fact offered to send $5 to anyone that backs the project at the $25 level or higher( http://www.comicbookpage.com/forum/viewtopic.php?t=1672&start=30 ). So, that $25 pledge will actually only cost you $20, for a hardcover collection of the 100 SOULS project. THAT is indeed a deal! Thanks for your support, Bob! (*hint* even if you don't know Bob you can still use him as a reference so he gets a card and you get the $5 *hint*)
To support the 100 SOULS project, visit KICKSTARTER:
http://www.kickstarter.com/projects/1614371398/100-souls-project-an-art-book-from-steven-russell
We have under two days left, please continue to spread the word and share the link.
We promise, after Sunday We will quit bugging you about this (c:
And a HUGE thanks to those that have already shown their support and made this project a success!
Sincerely,
Steven Russell Black
Hart Rieckhof
Michael DeLeRee
100 SOULS KICKSTARTER program now LIVE
Hello everyone! I have a new project that I hope you can help support with a pledge amount (even if itís only $5). Rewards for pledges range from a Sketch Card to an original color painting by Steven Russell Black!

ABOUT THE PROJECT:

"Eyes are the window to the soul. This group of work is about presenting 100 of them. 100 drawings capturing the essence of 100 souls." - Steven Russell Black

Steven Russell Black, Hart Rieckhof and NSNart have collaborated to bring you the first volume of the BLACK MARKET series. 100 SOULS will be a 6" x 7" hard cover book collecting all 100 drawings of the SOULS. It will also include 9 ASCENDED SOUL paintings done just for this book. There will also be notes/comments about each SOUL from Steven.

Thanks for your support!

Comic Art Commission Escrow Service
Hello Art Fans,
Is there a better way to handle the comic art commission process? I say, ďYes!Ē And now I want if anyone agrees, or if we as a community should continue as we have been with the same results.
Everyone that I have spoken with about getting commissions done, and I mean EVERYONE, has at least one story of the deal that just didnít turn out as planned. Iíve got a couple of stories myself, and a few still ongoing. In every one of those instances, if a system like this had been in place, and utilized, much of the pain and financial loss could have been prevented.
We all know the number one problem, paying up front for a commission that never comes to fruition. And if it does, it is months or YEARS late. This is not to say that artists are solely to blame. The up-front payment was put in place to protect the artist from putting in time/effort on a commission they would never be paid for.
So, this is what my business partner and I have come up with (
http://www.nsnart.com/EscrowService.asp
). Yes, it needs some fine tuning and feedback from you, the OA community. Itís not a perfect system, just yet, but in my opinion something is better than nothing. Will the commission horror stories stop because I have set this up? No. But, was a program in place to help prevent them from this day forward? Yes. The choice is yours. Iíll never get another commission without going through this escrow process.
Sincerely,
Michael DeLeRee
New Art for 06MAY2012
Hello Art Fans,
A slow week of art updates as NSNart prepares to take the show on the road at the PHOENIX COMIC CON. Any purchases can now be picked up in person at the show to save shipping costs. And premium CAF member discounts still apply.
New art this week includes:
Steven Russell Black continuing his DRAWING A DAY project and an amazing DEAD MAN piece.
Mike Dubisch, newly working with NSNart, has sent over several STAR WARS and CARRION FIELDS RPG pieces
A Nice CAPTAIN AMERICA from Kieron Dwyer
Full color DOCTOR FATE by Eddy Newell
a nice DOCTOR STRANGE Animated Series piece from Ruben Martinez
And a couple of commission pieces from Robbi Rodriguez and Paris Cullins
Enjoy,
Interview with STEVEN RUSSELL BLACK
Steven Russell Black does an interview for RED RIVER RADIO, a podcast by Mike Dubisch, Carolyn Watson Dubisch and Wade Zahares.
New Art for 22 April 2012
Hello Art Fans,
Before I get to this weeks art update Iíd like to relay a little story. I was speaking with a fellow collector this past week regarding him making a possible purchase from NSNart. I said, ďDonít forget, since youíre a PREMIUM CAF Member you get 5% OFF automatically.Ē To which he responded, ďHuh?Ē Since this info did not reach him, a List member and active collector, I thought I should bring it to the attention of those reading this again.
5% OFF EVERY PURCHASE, EVERY DAY for PREMIUM COMIC ART FANS MEMBERS. A few collectors have already taken advantage of this, but I donít want it to be a secret. This offer is open to ALL PREMIUM MEMBERS and I want everyone to take advantage of this. Non-premium members are also encouraged to take advantage of this, just become a PREMIUM MEMBER.
This week new art added from:
Steven Russell Black
Mike Parobeck
Rick Burchett
Steve Leialoha
P. Craig Russell
Win Mortimer
Daniel Govar
Roger Robinson
Georges Jeanty
Karl Story
Alex Saviuk
Dennis Jensen
Romeo Tanghal
Bob Layton
Val Semeiks
Denis Rodier
Bob Smith
Rich Buckler
Dick Giordano
John Heebink
Mike Lopez
Leonard Kirk
Anthony Carpenter
Vince Colletta
Gene Day
Keith Pollard
Bret Blevins
Doing art on:
Batman Adventures
Binkyís Buddies (Binkyís Girl Peggy)
Black Canary
DC Comics Presents
DC Super Stars
DEMON (Featuring Phantom Stranger)
Detective Comics
Elvira
Fables
Secret Hearts
Thor
and many pin-ups and commissions.
Thanks for looking,
Mike
5% OFF any purchase for ComicArtFans PREMIUM MEMBERS
Hello Art Fans,
As a collector of original comic art for many years Iíve built several websites, using some free hosting site or another over the years to try and share my collection. I became aware of
www.ComicArtFans.com
soon after it was launched, but didnít sign up. Why? I already had a great site to display my art on, set up the way I liked. I could post anything I wanted, however I wanted. It was perfect. Then in 2005 I came to my senses and joined CAF.
ComicArtFans has done more for the original comic art hobby than any other single website, to include eBay which has devolved into a horrid mess. But I digress. Iíd say CAF has done more for the original comic art hobby than any other 10 website you can think of. And because of this I want to see CAF continue to grow and evolve as it has in the 7 years I have been a member. So early on I became a Premium Member. The benefits far outweigh the minimal cost. And if I can contribute a small sum to continue to enjoy CAF, Iím happy to skip a couple of trips to some greasy fast food place throughout the year, and probably better off for it.
Now that Iíve got a website of my own, with quite possibly the best original art you have ever laid eyes on, I tried to think of another way to support CAF and everything they do for our hobby. I approached Bill Cox with an idea, he liked it, and here we are. I am proud to announce that
www.NSNart.com
is the first(and only as of this writing) original art website to offer 5% OFF of ANY purchase to ANY collector that has a PREMIUM GALLERY OWNER. If youíve been a PREMIUM GALLERY OWNER for many years you get 5% OFF any purchase, Any day. If you get a PREMIUM GALLERY tomorrow you get 5% OFF any purchase, any day.
Itís simple and easy to use. When making a purchase request, simply enter your PREMIUM GALLERY URL and get the discount. Itís that easy.
Thank you,
Mike DeLeRee
www.NSNart.com
NSNart 25% OFF Sale extended one day
Hello art fans,
The NSNart first annual 25% OFF sale has been extended one day! !
Because you demanded it, I was able to call in a few favors and get February extended one day. I won't be able to do this every year, so please take advantage of it while you can. On March first we'll all look back and remember "the good old days" when art was so much cheaper(25% cheaper by my calculations). Do you want to be one of the collectors bragging about your savvyness of picking up art on the cheap WAY BACK in the day(of February)? Or will you be one of the ones full of envyness?
There are over 700 pages listed (Yes, I know other dealers have art updates greater than that, but we're working on it) priced as low as $11.25 during the sale. We have artists for EVERY collector's likes and prices for EVERY budget.
25% OFF Sale ends February 29th!
Thank you for looking,
Mike DeLeRee
www.NSNart.com
Steven Russell Black's DRAWING A DAY
Artist Steven Russell Black has committed to doing a drawing a day for the rest of the year to help him reach a personal goal. Not a "sketch", not a "rough", but a full blown drawing. And this is on top of his already busy schedule of doing a comic series and commissions.
Please help Steven reach his goal, which is to save enough money this year to quit his day job and devote next year entirely to his art.
He's started off this project with a bang. And for the next 14 days these pieces will be included in the 25% off sale. I don't make many promises, but with Steven's art I will make two.
One, you won't find a better quality of art in his price range.
Thank you for looking,
Mike
www.NSNart.com
First annual 25% OFF Sale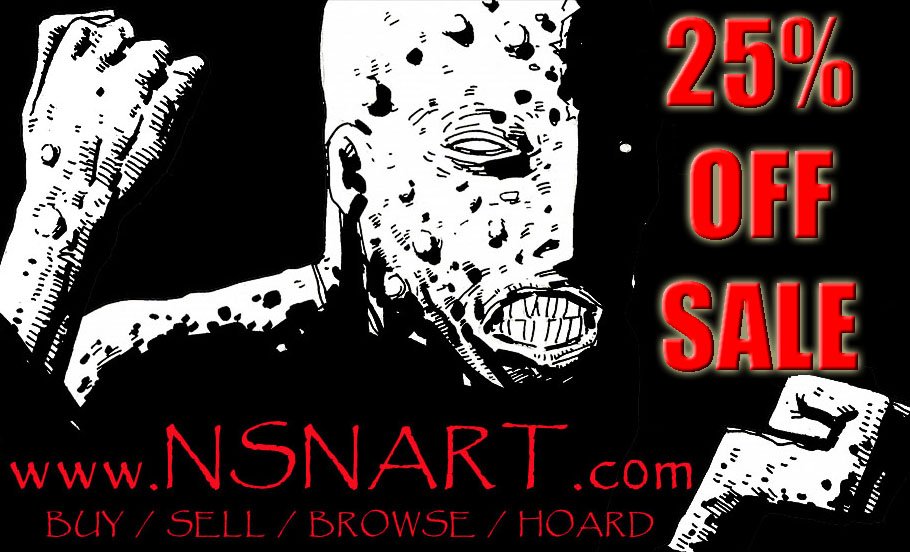 NSNart's first EXCLUSIVE release

Beginning in October, the first of many Collector Coins will be available exclusively through NSNart.
Each coin is 2" in diameter and 4mm thick. And the first coin is fully equpped with "GLOW IN THE DARK" Technology.

This coin will strictly be limited to 100 coins. Each coin will have it's unique serial number permanently stamped into the back, identifying you as one of ARSENIC LULLABIES loyalist fans.
Not only will these make an impressive display, they will also easily shatter any "Franklin Mint Elvis Plates" they come in contact with.
NSNart expects to begin shipping orders for the coin on October 17th.
BEN DUNN Sketch Cover Opportunity
NSNart, CGC Comics and Ben Dunn have partnered up to bring you the first ever BEN DUNN SKETCH OPPORTUNITY.
CONAN 33 Original Pages available from Cary Nord
Hello Fellow Collectors,In 2004 CONAN was once again able to be enjoyed thanks†to DARK HORSE COMICS' wonderful new take on the REH†legend. †The title ran for 50 all to quick issues with†Cary Nord handling a majority of the art chores. Fans†were instantly won over with his rendition of CONAN.†Cary Nord's name is now as synonymous with CONAN to the†new generation of comic readers as BWS is with fans of†the 1970's MARVEL series.
Cary has held on to ALL of his CONAN art until now. He has decided to release one and only one group of pages for sale. But what a group of pages it is. Cary has chosen to part with issue 33 from October 2006. This issue has everything a CONAN book should; Conan in battle, cute damsels, evil priests, potions, one INCREDIBLE DPS and several splash pages.
These pages will be available beginning 12PM Pacific, May 7th from www.NSNart.com and will be on a first come, first serve basis. Don't miss this opportunity to be one of the few collectors to get a Nord CONAN page!
Enjoy,
Michael DeLeRee
www.NSNart.com
NSNart Re-Launches with a whole new look
For those new to NSN-Art, my name is Michael DeLeRee and I've been collecting original comic art since the mid 1990s. Back when you could see who was bidding on eBay, you could see me going after mostly modern OA under the moniker "mister-not-so-nice." My humble collection garnered me a small mention in the recently published GRAILPAGES book. I've dealt with just about every dealer out there and now hope to do a deal with every collector.
When not hunting/scanning/posting/viewing/living original art I spend my days (and some nights) as a Huey Crew Chief in the Marine Corps flying in undisclosed locations.
Currently, I'm working with Ross Campbell (WET MOON/WATER BABY), Wayne England (Wizards Of The Coast), Christopher Herndon (LIVING WITH ZOMBIES), James LeMay (QUEBEC EROTIQUE/HORROR BABE CENTRAL), Cary Nord (CONAN/Misc MARVEL), Dean Ormston (DC/VERTIGO artist), Douglas Paszkiewicz (ARSENIC LULLABY/MAD MAGAZINE) and taking commissions for Mike DeCarlo.
One look at my CAF gallery and you will see an eclectic collection of art themes. In similar fashion, NSNart will be your location where you'll never know what will turn up next.
My ultimate goal will be to join savvy collectors with beautiful artwork.
If you use FACEBOOK, you can FOLLOW MY FACEBOOK PAGE
OR
FOLLOW MY BLOG
Sincerely,
Mike DeLeRee
www.NSNart.com